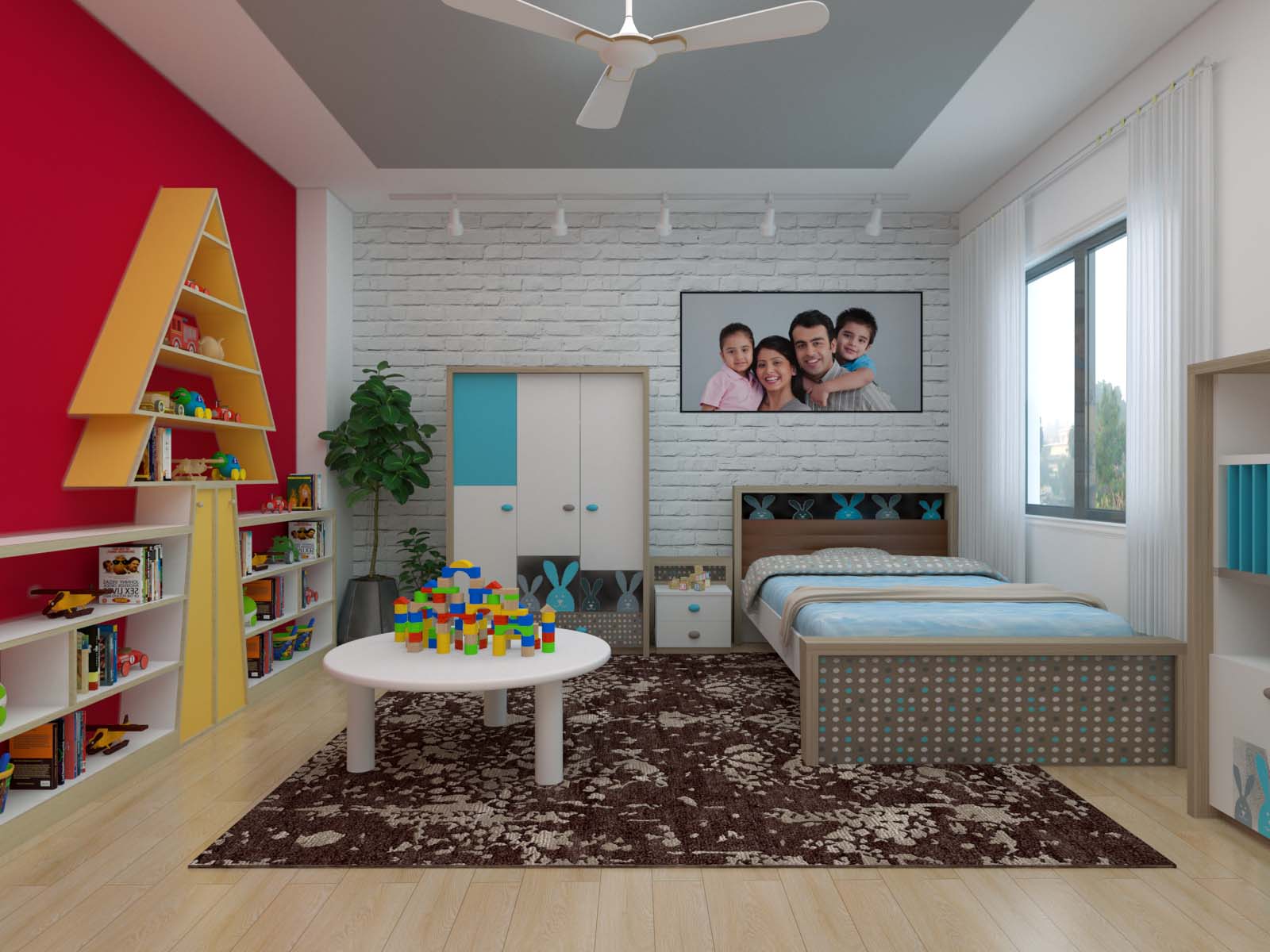 Trending Fun Wall Colour Ideas For Your Kids Room
When revamping your home, your kids' room is the most important, isn't it? You want to choose the perfect colours that match your kids' personalities and desires. Whether your kid is a tween or an infant, the colour needs to reflect them. Plus, it should make them feel cheerful and excited to have their own room.
Choosing the perfect and fun wall colour for kids' rooms can be quite daunting. So this blog has a list of trending fun wall colour ideas for your kids' room. Read on to be inspired to create the perfect décor for your children's room.
Fun Wall Colour Ideas for Kids Room
Fun wall colours that are trending and can be the best possible choice for your kids' rooms are listed below. You can get inspiration from the colour choices and create textures and patterns to make it vivacious.
Aqua Blue
Aqua blue is a gender-neutral colour that makes the children's room pop with colour. It's a bright colour with a nautical theme and adds energy to the room. You can combine aqua blue walls with white and sky-blue furniture and furnishings.
It creates a sea-like feel and adds vigor to the room. Plus, it is calming and soothing at night. Aqua blue is a colour that adds excitement and calmness to the room.
Gentle Purple
Gentle purple is modern and nuanced colour that you add to your kids' room. It transforms their room into a serene and soothing getaway. You choose this soft, light purple that borders on lavender colour to enhance your kids' rooms' walls.
Combining them with brown or turquoise furniture and furnishings can make it look exciting and aesthetically pleasing. Alternatively, you can choose neutral furnishings and furniture for the gentle purple backdrop.
Vibrant Yellow
You can make your kids' room cheery and bright with vibrant yellow colour walls. They are gender-neutral and perfect to create joy and excitement. Vibrant yellow creates warmth and brings exuberance to your kids' room.
You can combine yellow walls with brown or white furniture to create a rustic or modern look. Alternatively, you can create a zoo-like atmosphere using yellow walls and a combination of brown and green furnishings and furniture.
Dusty Rose
Dusty rose is one of the classic pink colours. It helps you create fun yet neutral-coloured walls for your kids. You'll be able to play with the colour of the furnishing and furniture by adding blues, reds, or even green.
Dusty rose is a rich hue that isn't overly dainty and is soothing. It creates a serene and playful atmosphere for your kids.
Navy Blue
Blue is a calming, soothing yet exciting colour. It adds vibrance to your kids' room and makes them feel energetic. Plus, it gives the room a classic look and will cover up any smudgy fingerprints and more.
You can combine navy blue with white or cream furniture and furnishings to create a classic look. Alternatively, you can add pop to the room with oranges and cerulean blue furnishing and furniture.
 Ensure you break the blue with a light colour so that the room doesn't become too dark.
Endnotes
A kids' room is meant to be exciting, naïve, and fun. So, you need to choose trending yet fun wall colours for their room. You can choose colours like aqua blue, gentle purple, vibrant yellow, dusty rose, and more.
You can play with the colours by going half and half, creating a rainbow feature wall, using geometric lines, and much more. Make the walls exciting and create motion in your kids' room.
Brightening up and making it light and airy with your kids' favorite colour is the key to having fun and trendy walls in their room.

Popular post
Popular Tags