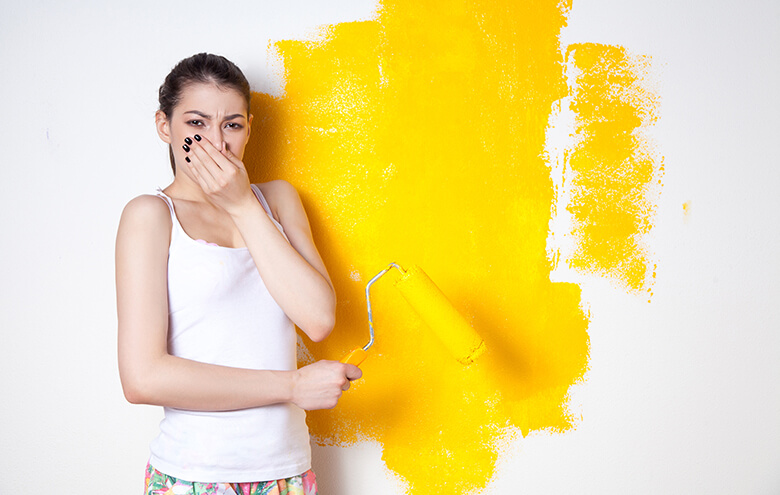 5 Best Ways to Get Rid of Paint Odor
Be it interior emulsions, exterior paints, or texture paints – every paint contains chemicals which release exasperating fumes. The problem of irritating odor is particularly prominent in newly painted homes. Mostly, ensuring proper ventilation can be a solution for getting rid of the odor. But in some cases, the smell takes longer than usual to disappear.
Eliminating the annoying odor which arises due the evaporation of solvents in paints is very easy, and can be achieved with the help of already available items in your home. Here are some of the best ways to get rid of paint odor from your home:
Candles
Scented candles are a great solution for eliminating paint odor. All you need to do is just lit the candle and your home will be free from odor within a few hours. The best part is that scented candles are available in a variety of flavors, so you can choose a flavor you like the most.
Charcoal
Leveraging an amazing property of absorbing paint smell, charcoals are highly effective in removing the paint fumes from newly painted walls. They will provide you with an odor free room within a few hours.
Baking Soda
Just placing a bowl full of baking soda in the painted space is enough to enjoy a room free from paint odor. Like charcoal, baking soda also has the property of absorbing bad odor. It is useful in eliminating even the strongest paint smell.
Coffee Beans
If you want to change the aura of your newly painted home, use coffee beans. Not only do they reduce the paint fumes and absorb the strong smell, but also spread a soothing effect in the entire room.
Water and Lemon
Add a few sliced lemons in a bucket full of water and place it in the room while painting. The water in the bucket will absorb some of the paint solvents while the lemon will provide the entire room with a clean, fresh scent. For best results, leave the bucket in the newly painted room overnight and you'll find a room with a fresh aura the next morning.As a home owner, it is extremely important that you contact the best paint company in India for painting your home. Apart from giving your home a beautiful and attractive look, the experienced paint professionals will ensure that you no suffer health hazards.
Popular post
Popular Tags