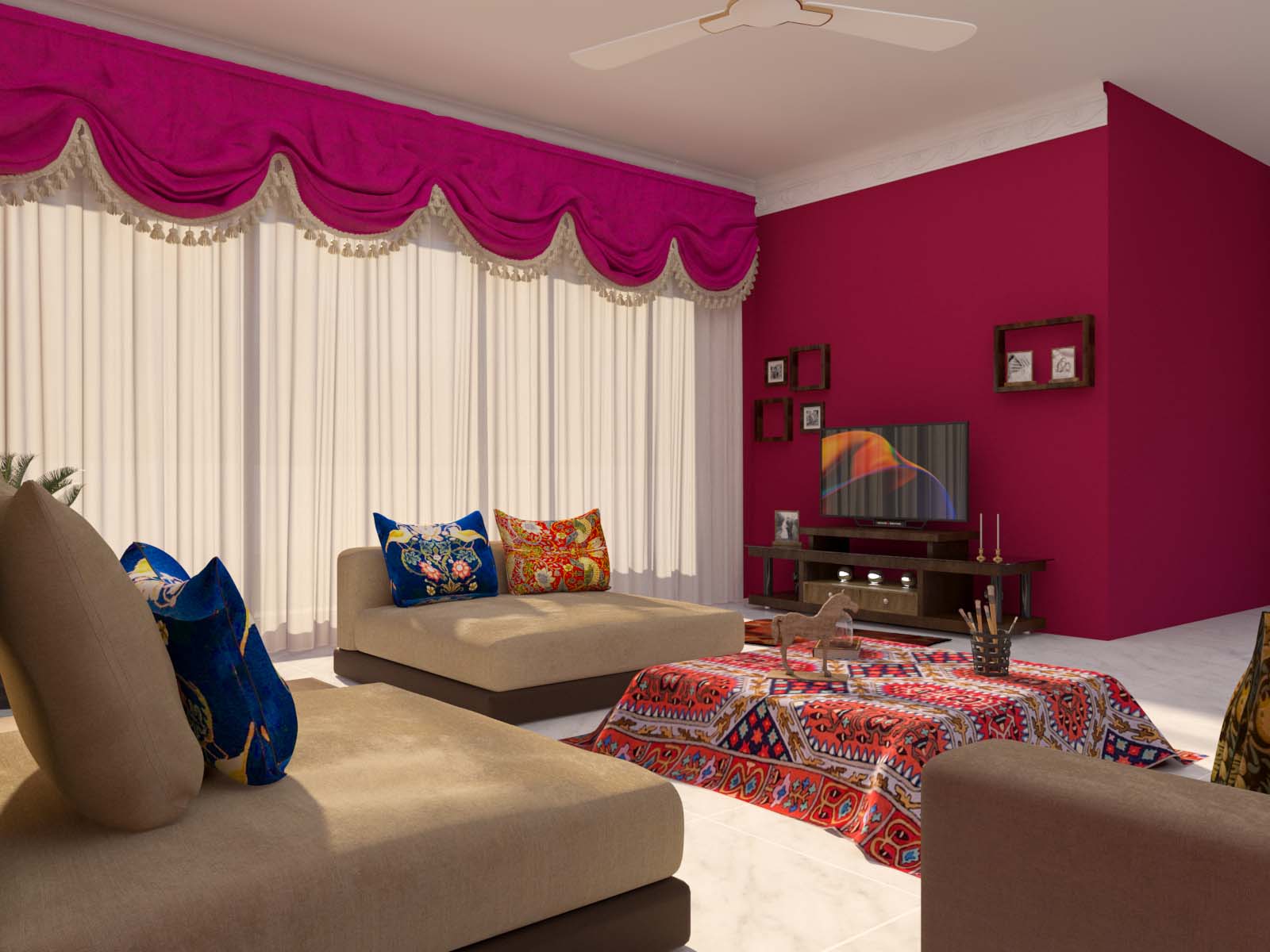 Rajasthani Style Living Room
Rajasthan is home to traditional fine arts and royalty. Bright colours and breathtaking interiors define the designs and art of Rajasthan, and its artistic imprints impress children and adults alike.
Add a factor of elegance to your living room with Rajasthani furniture like a diwan or floor bedding. You can pair this with a carefully curated handloom like a handwoven, colourful rug. There's so much to learn about how you can have all the Rajasthani feels sitting in your living room.
Read on as we look through some inevitable things that will adorn your living room, like one in Rajasthan.
Elements of a Rajasthan Inspired Living Room
If you're considering redesigning a room, you must look at all options available. Making up your mind to add a flavour of culturally rich Rajasthan to your living room might be the best decision.
In this section, we look at some magnificent, must-have décor ideas that are bound to adorn your living room, Rajasthani style.
Paintings
Rajasthan has world-famous artists and craftsmen, and Rajasthani paintings can adorn your house like nothing else. Most paintings portray the brave Rajputs and reflect the rich history of the State. These paintings are available in local markets on the streets of Rajasthan.
Puppets
Wooden dolls often referred to as Kathputlis, are traditional symbols that represent the culture of Rajasthan. They are super colourful and can be used to adorn your living room. You can also use these puppets to narrate a story.
Cabinets
The traditional cabinet is an add-on that changes the entire look of your room. It is a combination of aesthetics and usability. Made of fine wood, these cabinets serve as great storage units and give an eccentric style.
Textiles
Apart from world-class handicrafts, Rajasthan is known for its mesmerizing textiles. From block prints to embroidery and mirror work, everything that will enhance your living room is like never before. These designs are available in multiple handloom items that will complete the whole Rajasthani look.
Tips to Adorn your Living Room the Rajasthani Way
To best implement the Rajasthani style interior designs in your living room, you must understand the culture first.
· Colours are everything
Everything about Rajasthan is colourful, from its rich cultural heritage to the world-famous historical events that shaped the nation to what it is today. Understanding the importance of colours is primary while designing a Rajasthan-flavoured living room.
· Wallpapers glorify walls
A budget makeover can be assured by adorning your living room's walls with wallpapers. The wallpapers embellish the royal taste of Rajasthanis.
· Lanterns
Something as small as lanterns can completely change the look of your living room forever.
· Hand-crafted furniture
You can't miss out on Rajasthan's exclusively crafted furniture. There's so much to get for your living room. Starting from wooden shelves to low heighted sittings, Rajasthan has it all for you!
· The Vintage Touch
You must consider using Bandhej and Leheriya fabrics that are a delicacy of Rajasthan. These will add a vintage touch to your room and enhance the overall feel of the same.
Summing Up
You can imbibe the culture of the most Colourful and Royal State of India to your living room. This article describes all you need to add a touch of Rajasthani heritage to your living room to make it stand out.
This article delves into the best of Rajasthan's legacy and guides you to fill the living room with Rajasthani feels. We hope this makeover to your living room will take you on a spiritual journey to Rajasthan.
Popular post
Popular Tags