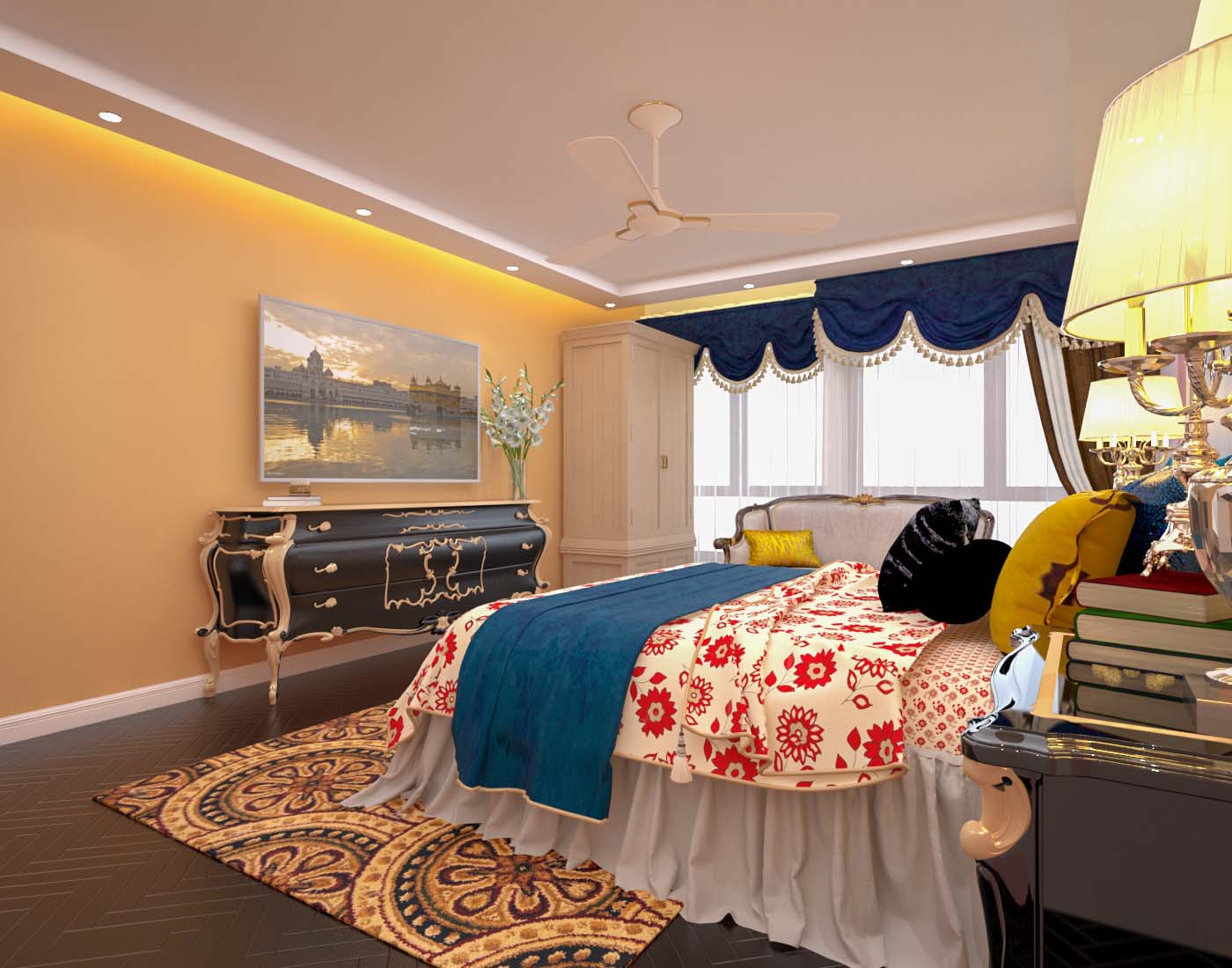 Give a Feel of Punjab to Your Bedroom
Punjab has always been famous for its vibrant colors. It has a history of various tribes settling in and giving the state a multicultural art.
However modern or contemporary a family's tastes might be, they like to incorporate some traditional Punjabi touches into their interior design.
While trying to incorporate Punjab-style bedroom ideas, feel free to try bold colors. It includes brick red, maroon, magenta, or burgundy to give it a traditional royal touch.
This article talks about creating a visually appealing, comfortable, and warm bedroom, like Punjab.
1.

Punjabi Designs
When we talk about Punjab, the famous artwork that comes to our mind is the phulkari embroidery. One can get these embroidery phulkari works framed and fit it as a perfect multicolored wall frame. This phulkari is available in various shapes, sizes, designs, and colors, giving you multiple options to decorate your room.
Another famous artwork is 'Durrie.' It is a simple cotton mat that has been around for a long time. It is a rustic, long-lasting, and versatile material. Consider a durrie for your home's flooring. You may even use it as a piece of wall art by attaching it to the wall.
2.

Punjabi Architecture
What sets a typical Punjabi bedroom apart from the rest? Well, it's the famous Punjabi Torana (arch) on the windows, which is a sacred Architecture. These arches give a lift to the room decor with the hint of culture.
These arches can also be added on the outside of the window, giving protection from direct sunlight. The arches can be painted with good quality paint to provide maximum detailing.
3.

Unique Aesthetics
Apart from the vibrant colors, it's the distinctive aesthetics that give life to a Punjabi-style bedroom.
4.

Use of Copper
A sure shot way to give your Punjabi room an uplift is by using copper. The famous Copper Flasks that are great for keeping water in the rooms fit perfectly in a bedroom filled with Punjabi Decor.
These copper flasks are available in various colors and shapes, which you can use to decorate your Punjabi-style room.
5.

Antique Furniture
The essence of a Punjabi bedroom is keeping it authentic. Earthen pots are used for keeping plants or wooden boxes and wooden-made trunks instead of enormous modular cupboards. These wooden boxes give a large storage space and simultaneously add to the style of the room.
6.

Curtains and Lamps
Punjab witnesses winter in its best form. This allows you to pick your curtains made of velvet and warm colors, giving you an essence of Punjab. With changing times, one can also use the ancient form of curtains with extra frills.
To keep the light of Punjab alive, you can also add the ancient lamps, which are now also available in electrical forms.
7.

Final Thoughts
Bedrooms are the most important space in our houses, and they must be decorated in the best and the beautiful way possible.
Are you bored with the regular, non-exciting look of your bedroom? Try giving it a touch of the vibrant culture of Punjab. If you need any ideas on getting the job done efficiently and flawlessly, feel free to contact us.
Don't let your bedroom stay boring. A little touch of Punjabi culture can bring it to life!

Popular post
Popular Tags