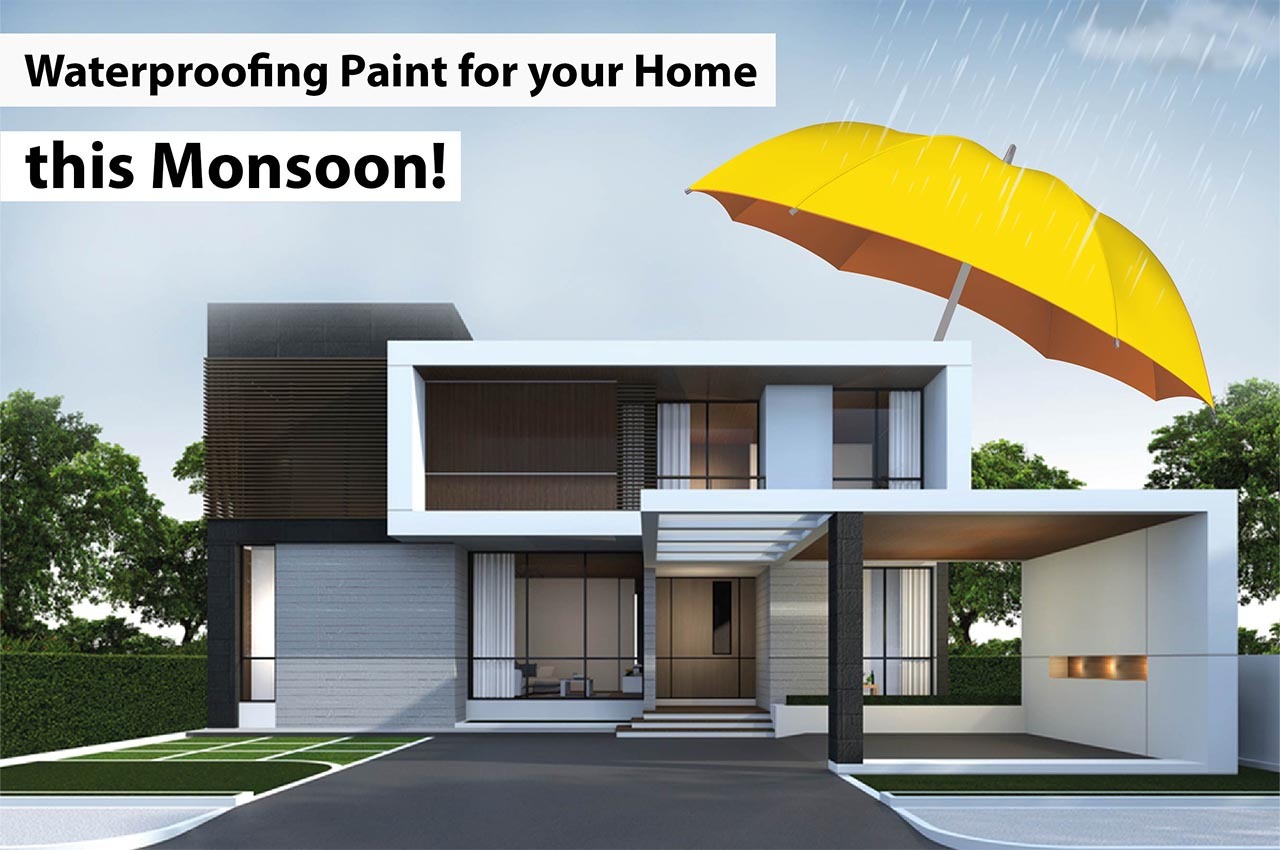 Waterproofing Paint your Home this Monsoon!
With the arrival of scattered rain showers, the monsoon is on its way to India. These scatter showers will soon turn into heavy downpours, and this will be for the next couple of months. No doubt, the rainy season is the time of great natural beauty. But, it poses a threat to our homes. Continuous heavy rains and winds degrade the structure of our homes. As a result, it causes damage that can be very costly. That's why, prevention is better than cure when it comes to water damage. Hence, it is very important to waterproof your home before the monsoon season affects it.
Here, we shed some light on the advantages of using waterproof paints in your home. In a nutshell, below mentioned are the benefits of these special paints:
Easy to clean with soap and water

3 mm to bigger damaged and cracks are easily repaired

Prevents the growth of mould, mildew, algae, moss, and fungus

Absorbs water as well as other liquids

Pocket-friendly

Less Volatile Organic Compounds (VOCs)

Best for decorating houses

UV-resistant. Keeps walls safe from flaking, cracking, and peeling

More elastic compared to other paints

Available in various colours
What is waterproof wall paint?
As evident from the name, waterproof paint is resistant to water or totally waterproof. Before water-based paints were manufactured that could resist moisture, people were using paints having high VOC levels on walls for waterproofing. But with the advancement in everything, there are now water-based paints available in the market that are completely waterproof and have low VOC levels. Thus, these paints are environment-friendly as well. In addition to that, waterproofing the walls and floor of the room helps in delaying the ageing process of your home.
Why and when to use waterproofing paints?
There are a number of reasons to use waterproof colours for your home. Of course, they protect your building from water damage, but there are other important benefits as well. For instance:
Do you know what happens when water seeps into your home? If you don't address it properly within time, the damp area may quickly become a breeding ground for fungus, etc. The moisture will enter your home through the walls and ceilings of your home, where mildew thrives. Airborne spores spread in the air and this leads to health issues for those who breathe them in. You can avoid such potential health hazards by applying water-repellent paints on the walls.
Your home is prone to danger in the rainy season if you haven't used leak-proof paint on exteriors as well as interiors. In addition to the walls, regular heavy rains ruin doors, windows, furnishings, and locks as well. In the winter season, if your walls and foundation have fissures, then cold air will enter inside and ruin your best efforts to remain warm. Using waterproof colours for the home will prevent these issues. British Paints waterproof paints is what we highly recommend for the protection of your house.
British Paints is one of the top paint manufacturers in India. It is offering a broad variety of decorative paints and industrial products. Just tell us your preferences as per the space and the atmosphere, and we will help you in selecting the perfect colour that enhances the beauty of your room. Headquarters in New Delhi, the well-known company has served different project verticals in the industrial and retail sectors. Its offered premium quality decorative and generic industrial paints and coatings are manufactured at modern units located in Uttar Pradesh, Jammu & Kashmir, Andhra Pradesh, and Assam.
Popular post
Popular Tags