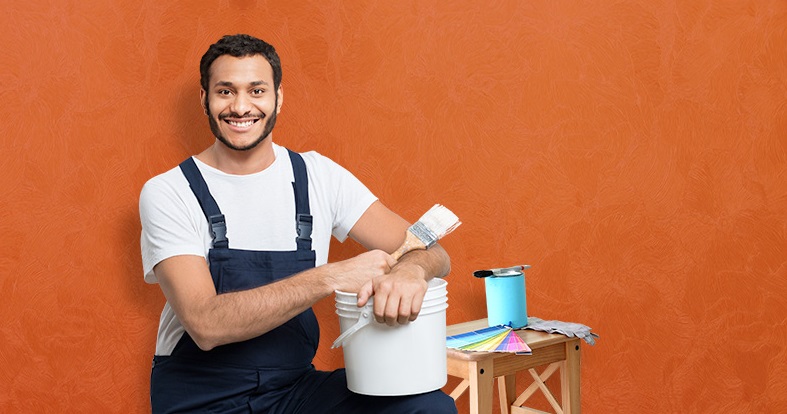 How to select the Best Paint for Your Home
If you want to give an old room a breath of fresh air or make your house more sellable (in case you want to put it on the market), then painting is a quick and cheap way to do so. In this article, we present all the tips and tricks on selecting the best paint for your home.
Which paint should Do you choose?
Paints are available in different sheens as well as in either oil or latex. The most common and preferred paint type to use is latex paint as it is easy to clean and has long-lasting durability. Also, it is more fade resistant and breathes better than oil. Thus, there is less blistering of the paint. Latex paints are perfect for most of your walls and household uses.
However, oil-based paints are best for priming real wood moldings and trimming as they seal stains and knots from the wood better than a latex paint wood. It takes longer to dry than latex paint though, so plan accordingly. You can use an oil-based shellac primer on my trim and then choose latex paint as the topcoat. There are a variety of brands in the market, but the best one is British Paints. It is a reliable paint manufacturing company in India.
Which sheen should Do you select?
The glossier the paint, the easier it is to clean up. If you have small kids and the room you are painting is frequented more, like a playroom, or tends to get grease on walls such as in a kitchen, then choose high gloss sheen as the wall can be easily wiped with a damp sponge. However, this will make blemishes and imperfections on your walls more apparent. In-room such as a living room, it can give off an unpleasant shine. High gloss paints are great for trim and they give the trim a nice finished look, thus complementing the flatter sheen of walls. 
For kitchens and baths, semi-gloss would be a good choice. Its trim provides ease of wash-ability and less shine than the gloss. A very common alternative, it is also slightly cheaper than the gloss finish.
Satin sheens have a satiny smooth finish to them. These can be used in kitchens, baths, and hallways.  If you want some gloss and paint that can be cleaned easily without the shine of a gloss, then this is a good choice. 
Select a flat or matte paint for walls with lots of imperfections. You can usually get away with one coat of paint with a flat. The downside to this paint is that it is not easy to clean and tends to show dirt more. Thus, you can choose it for those rooms that do not get lots of fingerprints and dirt on them.  
The most popular sheen is eggshell that hides imperfections like a flat does. It is easy to wash, durable, and smoother to the touch. It is good for most rooms as it has the best of both the flat and glossy worlds.
Choosing the right shade of paint is very important as it plays a very important role in giving you what you are really looking for. If you are in the planning stage of decorating your home by giving it an all-new look, then the experts of British Paints are there to help you with colour preferences, combinations, durability, and anything that would enhance the beauty of each and every room of your home. The experts will suggest you the perfect colour personifying your home based on your choices. That is why British Paints is counted among the top paint manufacturing companies in India. 

Popular post
Popular Tags