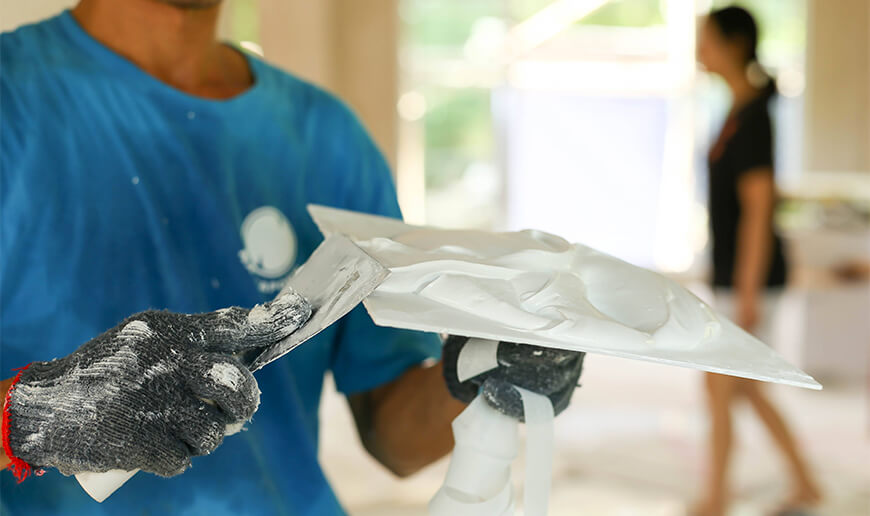 Which Putty is Suitable for Your Home
To fill dents and cracks, and even to level the imperfections caused by the baseline grey cement or plaster, putty is essential. Moreover, its application also helps in providing resistance to dampness and water. Dampness, one of the biggest threats to your wall paint and the overall health of your home, can be controlled by putty. Leaving it unchecked may lead to the growth of mould and algae. That's why, putty is a necessity than just accentuating the decorative aspects of paint.
There are different kinds of putties available in the market, each suitable for different purposes and occasions. White cement-based putty and acrylic putty have replaced the original Plaster of Paris. The acrylic-based putty is gaining popularity owing to its premium quality and increased durability. Moreover, it is far more readily available and economical.
What is wall putty?
Before deciding on which kind of wall putty is best suited for your home, you should learn what exactly wall putty is. This white-colored smooth mixture is applied by painters on the walls before they paint. This mixture is nothing but cement. Its application reduces the deterioration of your walls to a great extent. Also, it makes the walls resistant to water, heat, and abrasion, along with preventing them from undergoing flaking.
Advantages of acrylic putty
If you are confused about whether to buy acrylic putty or some other putty for your home, then go through the following advantages in order to make the right choice:
· Acrylic and water-based, acrylic putty is perfect for applying on interior walls. It has long-lasting properties and a smooth texture that make it a preferable option when compared to POP. The walls are given a polished and impressive finish if you use good quality putty. Moreover, cracks and abnormalities are also sealed with its usage.
· High-quality acrylic putty is a pocket-friendly way to diminish the consumption of wall paints. Thus, you will need less amount of paint to accomplish the work.
· It helps in the prevention of moisture buildup on walls as it has resistivity against water.
· By developing a strong bond with paint, acrylic putty makes it durable and long-lasting.
· Putty offers a glossy, smooth, and impressive finish to the walls by bringing out the actual paint shade.
· It prevents unwanted flaking of expensive paint coats as it doesn't get damaged.
The tensile strength of the walls is strengthened by the application of wall putty.

It is a misconception that paint alone can ensure the beauty of your walls. You should make an extra effort to choose the right wall putty if you want to enhance the appeal of your home. In case you are just repainting your home and there are no major damages to the walls, then minor touch-ups can be done with the putty. The market is flooded with several wall putty brands and it can be quite a tiresome task to pick the most suitable one for your home. A well-known brand like British Paints offers excellent quality acrylic putty that is ideal for all homes. Before deciding on anything, consult its expert, who will suggest you the best product based on the amount of moisture and sun your home is exposed to.
A well-known paint manufacturer in India, British Paints provides a broad variety of industrial and architectural coatings, post which the company was renamed Berger Paints in 1983. It has over 50+ branch offices and 12,000 channel partners spread across the country. It manufactures excellent quality decorative and generic industrial paints and coatings that are prepared at modern units located in Uttar Pradesh, Jammu & Kashmir, Andhra Pradesh, and Assam.
Popular post
Popular Tags