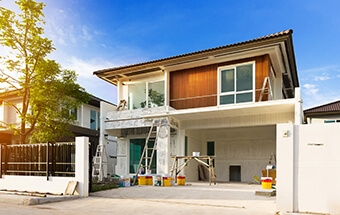 How does Exterior Painting enhance the value of your Home?
Peeling or outdated paint can drastically decrease the aesthetic appeal of your home. In such a scenario, exterior paints play a key role in maximizing the beauty of your home, increasing its resale value, and making it stand out among the neighborhood homes.
If you're looking to give your exteriors a complete makeover or increase the salability of your home, then a good exterior painting job can be an ideal solution.
Why Exterior Painting?
According to statistics, most real estate professionals, designers and consumers believe that elegant exterior painting can enhance the value of your home by around 2-5%. It is the look of your home that attracts buyers. Buying a home is as it is one of the biggest investments in a buyer's life. Seeing a home that was painted 10 or 15 years ago and calls for investing a huge sum of money in painting it again is the last thing a buyer wants.
In fact, real estate experts believe that exterior painting is more important than interior painting because it is the first thing buyers see even before they enter your home. Deferred maintenance and just the thought of painting the home soon is enough to make the buyer change his/her decision.
The date when the home was last painted and the quality of paint are two of the most common questions asked by modern-day buyers. In such a scenario, top quality exterior paints manufactured by the best paint company in India perfectly serve the purpose. Apart from the factor of high resale value, a good exterior painting job gives a cleaner appearance to your home and increases its visual appeal. Your home looks beautiful, elegant, and classy.
However, selecting the right exterior paint colours for your home is as important as painting the exteriors itself. Here are a few useful tips that will help you ensure a successful exterior painting job:
Use lighter colours as they help to make your home look larger in size.
For trim, railings, window frames, and other accents, use striking colours to freshen up the look of your home exteriors.
Go for cream, white and neutral colours as they provide the desired elegance which attracts several buyers.
In order to prevent the warping of material due to heat, paint vinyl siding of the same or lighter colour.
A good exterior painting job can fill your entire home with positivity and brightness. But make sure you only contact the best paint company in India who have trained professionals that can greatly change the overall appearance of your home and increase its value multiple times.
Popular post
Popular Tags