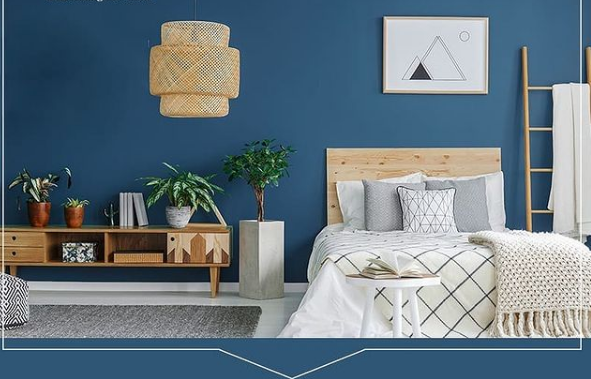 Do colors and patterns of your home really reflect your personality
You can express your personality in various ways. Your traits are also reflected by the way you decorate your home. The colors on your walls say a lot about how you are as a person. Your home is a sacred place where you can chill, hang out, watch television, relax, and spend quality time with your loved ones. People who see your home get an idea of how you are as a person and they may make certain assumptions about you based on that. In this blog, we present the top ways your home replicates your personality.
Colors and patterns of your home reflect your personality
Whether you realise it or not, your color preferences reflect so much about you. Your personality is replicated by the color palette you choose for your walls. Dark shades present a more self-assured side, for instance. If you are more inclined towards the hues on the darker area of the color wheel, then you are probably a more forward and bolder person than someone who prefers soft creams or pastels. Your chances of preferring light-colored walls are more if you are a more sophisticated (and less clumsy) person.
There are colors that can indicate certain personality traits of yours. Some of them are as follows:
· Yellow- Likes to express individuality through logic
· Purple- Needs emotional security and spirituality enjoys order and aims for perfection
· Red- Highly physical person who likes to experience with all five senses
· Brown- Has a deep need for a comfortable and safe life surrounded by close ones
· Orange- Extremely sociable person requiring acceptance and respect from everyone
Quite an accurate picture of your personality is also presented by the patterns that you use in your home. For example, a person using the pattern of classic pinstripes is considered to be classy and has his/her life together. Poor décor choices mirror poor life choices. So, it becomes very important that you opt wisely.
Needless to say that you should decorate for yourself displaying what you like the most. But it is a fact that your décor choices replicate who you are, and your guests make assumptions about you based on that. You should decorate your home as per your personal taste but you should also keep in mind "What does my living room say about me?"
The colorful history of British Paints in India dates back to 1947 with its genesis in 1919 in Britain. A well-known paint manufacturer in India, it offers a broad variety of industrial and architectural coatings, post which the company was renamed Berger Paints in 1983. With its headquarters in New Delhi, the company has served varied project verticals in the industrial as well as retail sectors. It has over 50+ branch offices and 12,000 channel partners spread across the country. It manufactures excellent quality decorative and generic industrial paints and coatings that are prepared at modern units located in Uttar Pradesh, Jammu & Kashmir, Andhra Pradesh, and Assam.

Popular post
Popular Tags