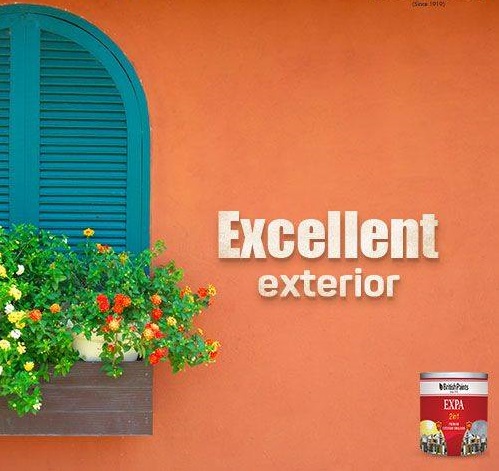 10 Surprising Benefits of Painting Your Home's Exterior
It is quite an arduous and time-consuming task to paint the exterior of your home. But if you are someone who is contemplating whether the expenditure incurred on painting the exterior walls is worth it, then we would like to tell you that the answer is YES!! Along with improving the aesthetics of your home sweet home, painting also provides protection to the exteriors. It can also help in fighting off health risks, promoting good indoor air quality, and enhancing the aura of your home.
The advantages of painting the exteriors of your home are numerous. However, we are presenting below the most crucial ones:
1. Enhances its value
Keeping the outside of your home sharp and fresh is a great way to secure and even increase its value. Studies have shown that the resale value of a house increases if it is painted well.
2. Protects from natural elements
A house is prone to damage from weather, insects, dust, etc. However, high-quality exterior paint is like an added layer of protection from these natural elements, thereby protecting your home.
3. Repairs damage
A nice paint coating also identifies bigger issues of your home's exteriors that usually go unnoticed. An array of flaws including mold, mildew, water stains, rotting wood caused by weakened paint, etc. can be revealed while you are working to repaint your home.
4. Choose new trends
Good quality wall paint can enhance the beauty of your home and that too within your budget. It makes your home look a little more gorgeous. So if you are willing to change the outlook of your home, then exterior wall paint can do wonders!
5. Prevents staining and peeling
Paints covering exterior siding and trim surfaces are known for facing the most demanding conditions. That's why, it is very important to get it right. Painting helps in repelling stains along with being resistant to flaking, unlike the old exterior paint.
6. Helps siding and trim last longer
You should never ignore dirt, mildew, and other debris on your siding or trim. Exterior wall paint helps in sealing wood against all kinds of weather and elements while averting rot.
7. Makes your home look extraordinary
For the lasting impression of your house, exterior wall painting is essential. The outside should look sharp at all times. To make your house stand out, an expert quality exterior paint job is the most important thing to do.
8. Improves indoor air quality
Newer paints improve the quality of air in your home as they have fewer off-gases when compared to older paints.
9. Keeps moisture out
Along with improving the appeal of your home, properly painting the exterior also helps in the prevention of moisture damage, wood rot, and other problems arising during seasonal weather changes. Exterior wall paints keep moisture out in the winter season as well. Good quality paint keeps your home safe from water damage.
10. Extends paint life of the home
A fresh coat of paint gives your home a fast and attractive renovation that cannot be provided by anything else. Whether you want to enhance its appeal before selling it or are just willing to make your sweet home stand out, the exterior wall paints do a great job to serve the purpose. Moreover, premium quality paints do not require frequent touch-ups like the older ones.
Thinking of painting your home exterior by giving it an all-new look, then allow British Paints experts to help you with colour preferences, combinations, durability, etc. that would augment the exquisiteness of your home. It is a well-known name in the market when it comes to exterior wall paints in India.

Popular post
Popular Tags