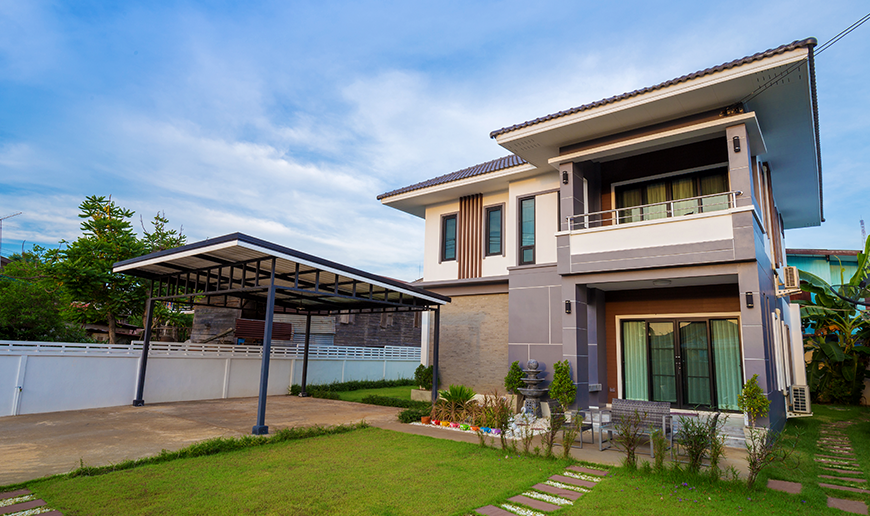 Choosing the Right Exterior Emulsion Wall Painting Colour
The type and colour of paint you choose can make a huge difference when it comes to painting the exterior of your house. Emulsion paint is one of the most widely used options for painting exterior walls. This kind of paint is renowned for its resilience, resistance to moisture and the elements, and capacity to provide a smooth and uniform surface. Yet, choosing the ideal hue can be difficult due to the abundance of colour options.
It's important to take your home's overall design and appeal into account when choosing an external emulsion wall painting colour. The colour should go nicely with the house's architectural style and the surrounding environment. For instance, earthy or subdued colours like beige, white, or grey may be a wonderful choice for a more conventional or classic home.
It's imperative to adequately prepare the surface before applying the paint. This entails removing all dirt, dust, and debris from the walls and making sure they are dry and smooth before painting. A primer can also aid in the paint's adhesion to the surface and stop future peeling or flaking.
It can be beneficial to look at colour schemes and combinations that are frequently used in the business when choosing an outside emulsion wall painting colour. Many paint manufacturers include colour schemes and swatches that can help you get a sense of what hues go well together and how they can change how your home looks as a whole.
One of the most well-liked colour schemes for exteriors is the monochromatic scheme, which uses several tones of the same colour. This can produce a polished and coordinated appearance. Using colours that are opposite one another on the colour wheel is a complimentary colour scheme, which is another well-liked choice. Using blue and orange or green and red as examples. This may have a stunning and arresting result.
It's important to keep in mind that the outside colour of your property might have an impact on its ability to sell. Potential buyers frequently favor neutral and timeless hues like beige, grey, and white because they offer a blank slate for customization and are less likely to clash with other hues. But if you intend to live in your house for a while, don't be afraid to pick a colour that expresses your unique sense of style and taste.
There are primarily two alternatives for emulsion paint types to use on exterior walls: acrylic and vinyl. The longevity, resistance to fading, and crack resistance of acrylic emulsion paint make it a popular option for exteriors. On the other hand, vinyl emulsion paint is well-known for its water resistance as well as its capacity to repel dirt and stains, making it a fantastic option for homes in locations with high levels of pollution or rainfall.
No matter which kind of emulsion paint you select, it's critical to apply it correctly for a smooth and even finish. This may entail priming the surface, applying the paint with a brush or roller, and giving the paint enough time to cure in between applications. It's crucial to adhere to the manufacturer's recommendations for the temperature and humidity levels during application.
Choosing the appropriate exterior emulsion wall painting colour for your house is a choice that has to be carefully thought through. It's crucial to pick a colour that harmonizes with the design and architecture of your house as well as the scenery outside. For you, it can be easy if you choose British paints as it has the perfect service that gives you proper assistance and suggestion for your wall. So, if you are looking to apply emulsion paint on your wall you must consider British paint as an option.

Popular post
Popular Tags